ICS series electronic belt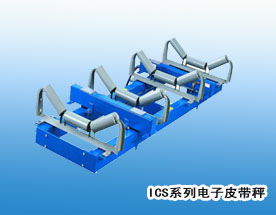 Pass belt scale belt scale, especially it is the latest development of the intelligent belt scale, the product of the Japanese original Unipulse K.K. F805-BC Instrument as special scale body weighing controller and the Company's production guarantees Excellent quality and reliability of the product. Unipulse systems greatly enhance the use of the instrument as a whole belt scale weighing speed, accuracy, handling, stability and reliability, and failure rates and failure rates to a minimum, greatly enhance brand quality and perfection of the system, the belt weigher long-term stable operation in an optimal state.
In particular it is Pass electronic belt conveyor belt for bulk material conveyed automatic dynamic continuous intelligent automatic weighing scales. Widely used in metallurgy, mining, building materials, electricity, chemicals, warehousing, transportation and other industries.
Technical parameters
1, accuracy class
ICS-XE4 type is suspended four-roller accuracy of 0.125%
ICS-ST4 type of double leverage four rollers, with an accuracy of 0.25%
ICS-DT4 is single lever four rollers, with an accuracy of 0.5%
2, weighing range: 6 ~ 2000t / h
3, belt width: 500 ~ 2000mm
4, belt speed: 0.2 ~ 3.5m / s
5, the belt slope: <15º
6, power supply: ~ 220 ± 15% 50HZ
7, the use of ambient temperature: Balance frame portion -20 ~ 40 ℃ -10 ~ 40 ℃ instrument section