SCS series of electronic truck scale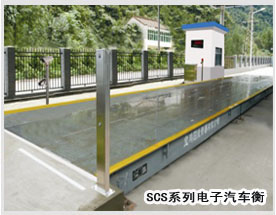 I produced SCS electronic truck scale body structure using steel welding structure, give full play to the best mechanical behavior of materials, scale body rigidity, good strength, high overload capacity, ensure the long-term use does not occur concave surfaces and other plastic variants.
Scale units for the whole steel structure, modular, low platform, no pit and shallow pit installation. According to the weighing scale units table size and requirements, flexible multi-section, said platform structure, material quality carbon structural steel. Force transmission mechanism for the upper and lower ball indenter and power transmission, can automatically maintain the vertical force state to cushion the limit to ensure the accuracy of weighing the long-term use.
Chemical composition and mechanical properties of materials used in the weighing platform in line with national standards, before welding shot peening and cleaning welding area. The main fillet weld and butt weld automatic or semi-automatic method to complete, to ensure adequate penetration and penetration. Weld groove and dimensions comply with GB985, the provisions of GB986, GB10854 of. Electrode selection conducted according to the principle of equal strength, to ensure the quality of welding.
Using armor cables to prevent damage caused by rat-bite and so on. Stainless steel anti-surge junction box, with anti-corrosion, lightning and surge protection functions.
Said before the assembled each component must go through slag, rust scale, grease and shot peening, painting two primer and two topcoats. Paint using more advanced types of paint, can adapt to a harsh environment.
Purpose:
This product is used in metallurgy, mining, railways, ports, chemical, grain, flour, feed and other industrial and mining enterprises of various types of heavy-duty vehicles measuring of the goods loaded.
Structure:
The product from the weighing display instruments, weighing sensors and body composition scale. Scale of the new frame steel structure.
Features:
This product has high precision, weighing accurate and quick, good reliability, the use of bridge sensors, the new scale body frame structure, the impact resistance, compressive strength, flexural performance greatly improved, installation, easy maintenance, fault rate less.
Features:
Has the system status automatic calibration function; weighing "dynamic" indicator; automatic zero tracking function; automatic tare function; shows the total weight, tare weight, net weight function; configured computer system management.
Specifications: 15t, 20t, 30t, 40t, 50t, 60t, 80t, 100t, 120t, 150t, 180t, 200t.
Analog Illustration: